Cloth Covered Wire - BLACK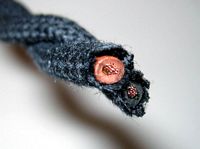 Cloth Covered Wire - BLACK
Notes: This item is sold by the foot. The quantity listed is the number of feet.

1 Foot 18 Gauge 2-Conductor, Twisted, Cotton - BLACK, GOLD,
This twisted 18 gauge, two-conductor wire is a perennial favorite for wiring electric fans, electric lamps, and small electric appliances. Each conductor is covered with a black cotton braid. There is no outer tracer thread differentiating the conductors; however, the PVC jackets beneath the cotton braid have two slightly different colors. This wire is rated for 600 volts, 105 degrees centigrade.